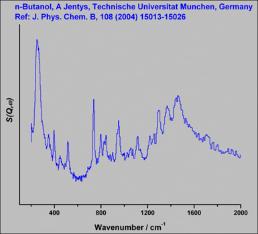 Authors
A. Jentys, Technische Universitat Munchen, Germany
Description
Inelastic Neutron Scattering spectrum of 1-Butanol, C₄H₉OH, measured on the TOSCA instrument. n-Butanol.
This spectrum was recorded on TOSCA in 2003. At the time, the instrument had a sample-dependent background that limited the data quality.
Subsequent work has also shown that 1-butanol readily forms an amorphous phase on cooling that can be annealed to a crystalline form. It is uncertain which form this spectrum represents.
This spectrum has been superseded by better quality data of well-characterised phases. See: 1-Butanol amorphous (http://dx.doi.org/10.5286/edata/871) and 1-Butanol crystalline (http://dx.doi.org/10.5286/edata/872).
Licence
Creative Commons Attribution 4.0 International
Collections